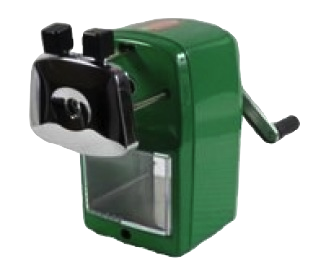 I have always said that whoever invented a quiet, reliable pencil sharpener would make a million dollars…
I have been lucky to get a chance to try out the Quietest Classroom Pencil Sharpener in my classroom.
This pencil sharpener produced the sharpest pencils I have ever seen---every time.

It was very quiet.

My firsties loved trying it out so much,

I did have to put an eventual limit on the amount of times they could visit.

Our school nurse was so impressed by the sharpener she went and bought three!

One was for home and the other two were for teacher gifts.
I would have to say this is by far the best manual pencil sharpener.

There are only two notes I want to make.

This sharpener does a phenomenal job on colored pencils, but since the lead is so soft on these pencils, it can sometimes get stuck in the sharper and needs to get dislodged.

This never happened with regular pencils.

The other note is about the clamp.

My firsties don't have the arm strength to hold the sharpener so I needed to use the clamp that came with the sharpener.

I have not found the right surface to clamp the pencil sharpener to in which it doesn't wiggle without holding it.
Overall, this pencil sharpener is a keeper.

It even sharpens those icky pencils that just get chewed up in other sharpeners!
Check out
Classroom Friendly Supplies
for more information.